Although I never held the title "Social Media Manager," community management and content creation became part of my job fairly early in my career. I wasn't particularly good at it. In fact, I grew to feel overwhelmed by the constant community management, the snark, the nasty comments filling the DM inbox, but the thing that always bothered me the most was the utter lack of understanding from those above me about what it takes to be a social media manager. People thought it was the "fun" job because they imagined I just spent all day on Facebook. What was a leisure activity for them was a full time job for me. It wasn't until I went on maternity leave with my third baby, and four people had to pitch in to handle the workload that my colleagues began to understand. In many organizations social media is not only misunderstood, it is understaffed with people who are underpaid, underappreciated and under resourced. Often, this is a paradox as the expectations of leadership about what social media can and should do for the organization doesn't align with staffing or resources.
Tony Dobies is a marketing leader at West Virginia University, and he is uniquely positioned to understand the struggles of social media managers as he was one before moving into leadership. The team Tony leads at WVU has, like so many of us, had a very tough year, but their struggles began before the insanity of the early-March Pandemic. But Tony didn't turn a blind-eye to that suffering. Instead, he did something about it by creating and executing a study on social media manager's mental health.
And his findings aren't pretty,
"Nearly half of social media managers in higher education say they do not have adequate support and/or resources to ensure good mental health.
In fact, social media managers struggle with their mental health during an average day and much more so in a crisis situation, according to a study by West Virginia University. Using a 0-10 scale where 0 represents poor mental health and 10 represents excellent mental health, social media managers, on average, rate their mental health a 6.35 in a given day. The average decreases to 4.52 when dealing with a crisis."
In this episode, Tony and I talk about the study findings as well as:
What leaders can do to understand/help their social media teams
What leaders should NEVER say to social media managers
The expanding role of the Social Media Manager
Is Social Media Manager the new Public Relations Specialist?
What the ideal social media team looks like
The damage of snark on a social media manager's psyche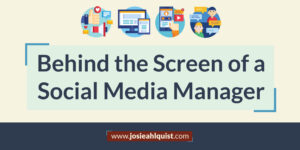 Tony also teamed up with Dr. Josie Alquist and Katy Spencer Johnson to create a guide that every marketing leader and social media practitioner will find value in.
Behind the Screen of a Social Media Manager is a two-part series look at social media manager occupational mental health and advocacy. Tony, Josie, and Katy help social media managers feel seen by acknowledging that these folks are undervalued, underpaid, and overworked. The team presents tactial advice on knowing and showing your worth, building a supportive network, and resources for social managers and leaders. 
Servant Marketing Snacks from Episode 5