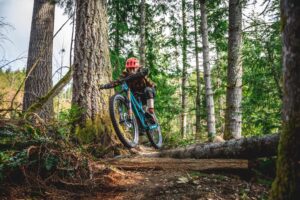 When you're lucky enough to work with good people, stay in touch with them. Aaron Kerson and I worked together a long time ago at a green energy startup. It was a volatile environment, with constant change, a product that wasn't ready to go to market (but went anyway). Aaron always made work fun, and even at 22, it was clear that he was a born entrepreneur. So, it is no surprise that Aaron has gone on to build a career where he combined his lifelong passion for cycling with business. As the CEO of PNW Components, Aaron and his wife Emily, have created a brand focused on service and creating an inclusive community. They saw a hole in the cycling market for a brand that spoke to the everyman – the weekend cyclist who in the words of Kerson, "Just want to drink, beer, eat burritos and hang out," and not hyper-competitive, professional cyclists. The couple started building the brand as a side hustle and in a little under 5 years, have grown it to their full-time gig with a staff of people who believe in them and the company. The cherry on top? This year they were named #114 on the Inc. 5,000 list of fastest-growing companies in America.
Aaron's origins might be the most interesting part of the way he approaches leadership and brand-building. He comes from a long-line of Servant Leaders. Almost 50 years ago, his grandparents founded Vine Village, a not-for-profit located in Napa Valley, that serves people with developmental disabilities. When Aaron's grandparents welcomed a beautiful baby girl, who happened to have Down's Syndrome, into the world, they were told that their only choice was to turn her over to a state institution. But Aaron's grandparents didn't accept that as a solution. They knew that people with developmental disabilities are not to be cast aside and that they have hopes, dreams, and goals just like the rest of us. So they bought property in Napa Valley (long before it was the Napa of today), and created Vine Village. They have both residential and day programs focused on arts and ag.
Vine Village currently has 16 full-time residents who live a full, active, healthy lifestyle in a communal living style. Aaron's parents continue the legacy of Vine Village, and I want to help them. Right now, they could use funds to help keep up with the community's needs for PPE. Many of the residents at Vine Village are more susceptible to contracting the Corona Virus, and the results of that can be devastating. If you're interested in helping head over to GoFundMe, and donate what you can.
In addition to learning more about Aaron's origins and business, here's some more goodness in this episode:
Aaron and I take a trip down memory lane to our days at a tech start-up
Discuss what Silicon Valley teaches us about leadership
Learn how Aaron and Emily went from side hustle to number 114 on the Inc. 5000 of fastest-growing companies.
How PNW Components' understanding of their customer helped build a new market that they were uniquely poised to serve.
Aaron's origin story and family history of Servant Leadership.
We discuss building teams and checking our egos.
Servant Marketing Snacks – Episode 6