I came up through the ranks on the digital side. Although I focused on PR and Advertising in college, I graduated at an opportune time to jump into digital marketing. I learned my first bits of HTML on MySpace and started blogging while I was still in college. Despite the 2008 recession occurring only a couple of years after I graduated, my career prospects always remained strong because no one was cutting digital. So, when I came to higher ed, I was a bit biased. I found it hard to believe that print marketing was still such a large piece of the marketing mix. However, it didn't take long for me to get schooled on how important print pieces can be.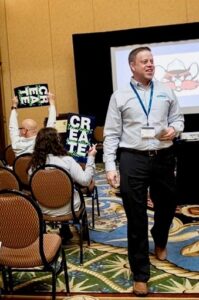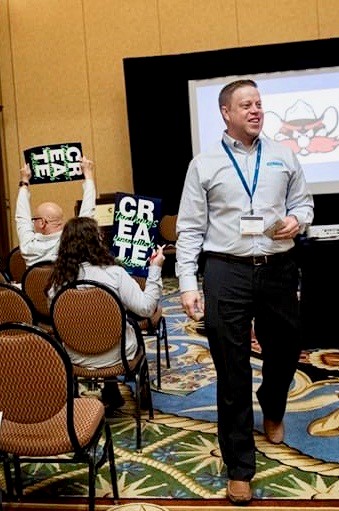 However, I didn't know how innovative print could be until I met Trey Laverty of Slate Group. Trust me when I say this – Trey and his team at Slate are the secret weapon behind many higher ed marketing teams. As you'll hear in this episode, Slate doesn't just take a file and print it. They are true creative partners who push what's possible in print, look at the entire customer journey, and partner with their clients to make big things happen.
Our team at the University of Wyoming has partnered with Trey on our enrollment marketing work for several years. Below are a couple of examples of some of the pieces we've collaborated on.
Check out Slate Group Inspiration Gallery here or read the Slate Group blog.
Trey and I also talk about a project at the University of Wyoming that his team emulated. This project was special to me, and although it may seem really simple, it's a testament to showing up for people with no agenda. Our team created a simple yard sign (pictured below) that we began placing around our town in the early days of the pandemic lockdown. The signs were free and it was a purely organic movement. We didn't sell the signs or make any profit off of them. Instead, they served as reminders to stay positive and kind during a time when many were struggling with dear and anxiety. To date, we've sent nearly 6,000 signs all over the country as their popularity grew.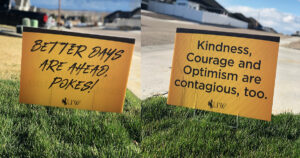 In this episode we talk about:
The evolution of print (spoiler: it's not dead)
How Slate Group builds relationships and markets the company in a crowded vertical
The ideation behind Slate Group's annual Christmas gift
Why fun should be a part of leadership
What Garth Brooks can teach us about marketing and service
Episode 8 – Servant Marketing Snacks